Tandem Skydiving Maryland
The Best First Time Skydiving Experience
Tandem Skydiving
Your adventure begins after you fill out some paperwork, watch a short video, and then a USPA-certified tandem instructor will take you through a ground training session. You will then board the aircraft and ascend to your chosen jump altitude! As your aircraft climbs to altitude, be sure to enjoy the breathtaking views of the Chesapeake Bay and Atlantic coastline.
You are now close to reaching altitude, and your instructor begins to fasten your harness to the parachute system built for two. The door opens and you and your instructor will jump out of the plane harnessed together in a special parachute system built for two people!
You will fall for almost a minute and reach speeds up to 120 mph. After the parachute opens you will glide through the sky towards the earth for 5-7 minutes! Land back on the ground, get unstrapped from your instructor, and ride that adrenaline high for the next week!
"Full Send It"
With this much freefall, you will have the time to regain your senses and truly appreciate the awesomeness of the particular situation you have found yourself in.
When the plane reaches altitude you and your instructor will exit the aircraft and free fall for about 55 seconds at 120 mph.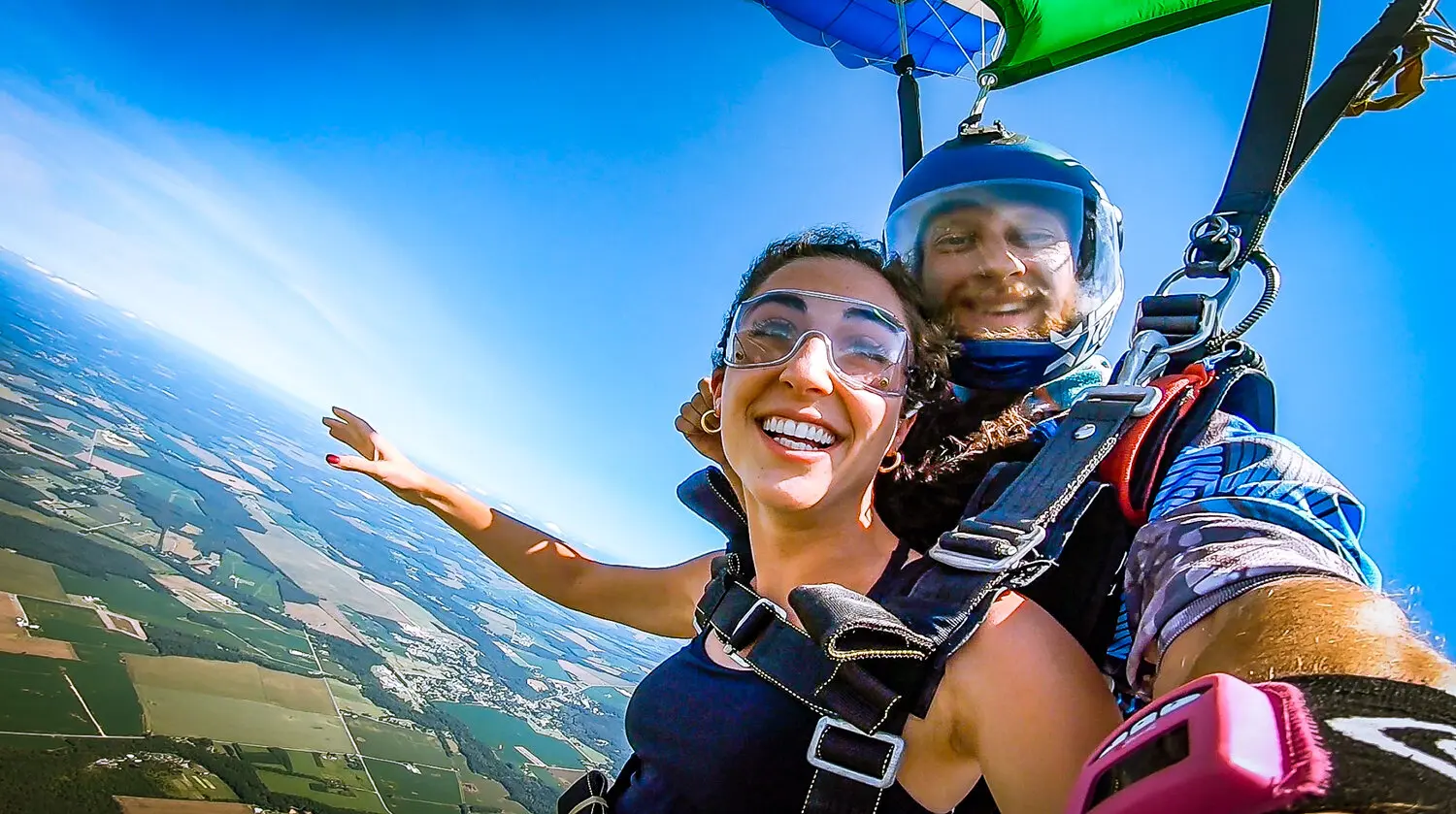 BOOKING YOUR TANDEM SKYDIVE IS SIMPLE!
View our availability & scheduling calendar CLICK HERE
Pick a day and time you would like to reserve your tandem skydive.

Please note that the time you select is your arrival time, NOT your jump time
Plan to spend at least 2 hours with us

Reserve your time with a $50 deposit
The remaining balance will be due upon arrival for your skydive!
FAQs & RESOURCES
WEEKENDS: We are currently open Saturday and Sunday for the winter
WEEKDAYS: We are open weekdays upon request. Contact us if you would like to reserve a weekday tandem for you or your group.
LOCATION: We are located at 24030 Race Track Rd, Ridgely, MD 21660
ONLINE RESERVATIONS: Online reservations are highly encouraged to ensure you have the best experience possible!

The reservation time you make is for your ARRIVAL time. Please plan to arrive at least 15 minutes prior to your reservation time so we can properly check you in.
We only charge a $50 deposit for your online reservation. The remainder is due upon arrival.
WALK-INS: Walk-ins are welcome! But give us a call prior to arriving so we can ensure we provide you with the best service possible. Our phone number is (201) 477-0525
PRIVATE PLANES & PRIVATE TANDEMS: We practice all Maryland state social distancing guidelines, and you are welcome to have the opportunity to reserve a private plane for yourself or for your group for a contactless experience. CONTACT US for pricing and availability!
CANCELLATIONS: In the event of weather related cancellations, deposits can be transferred to another date with no penalties. Otherwise deposits are NON-REFUNDABLE.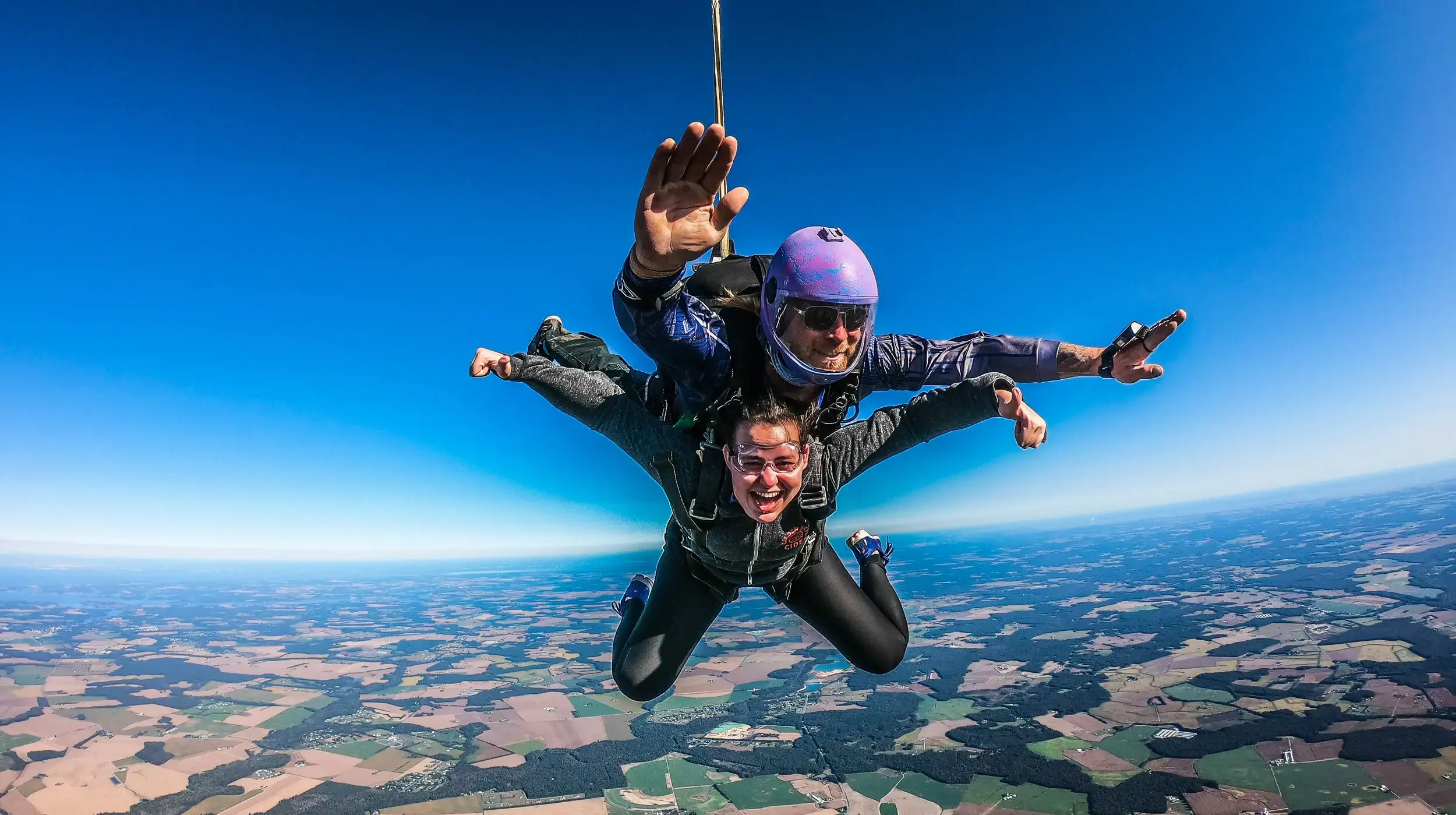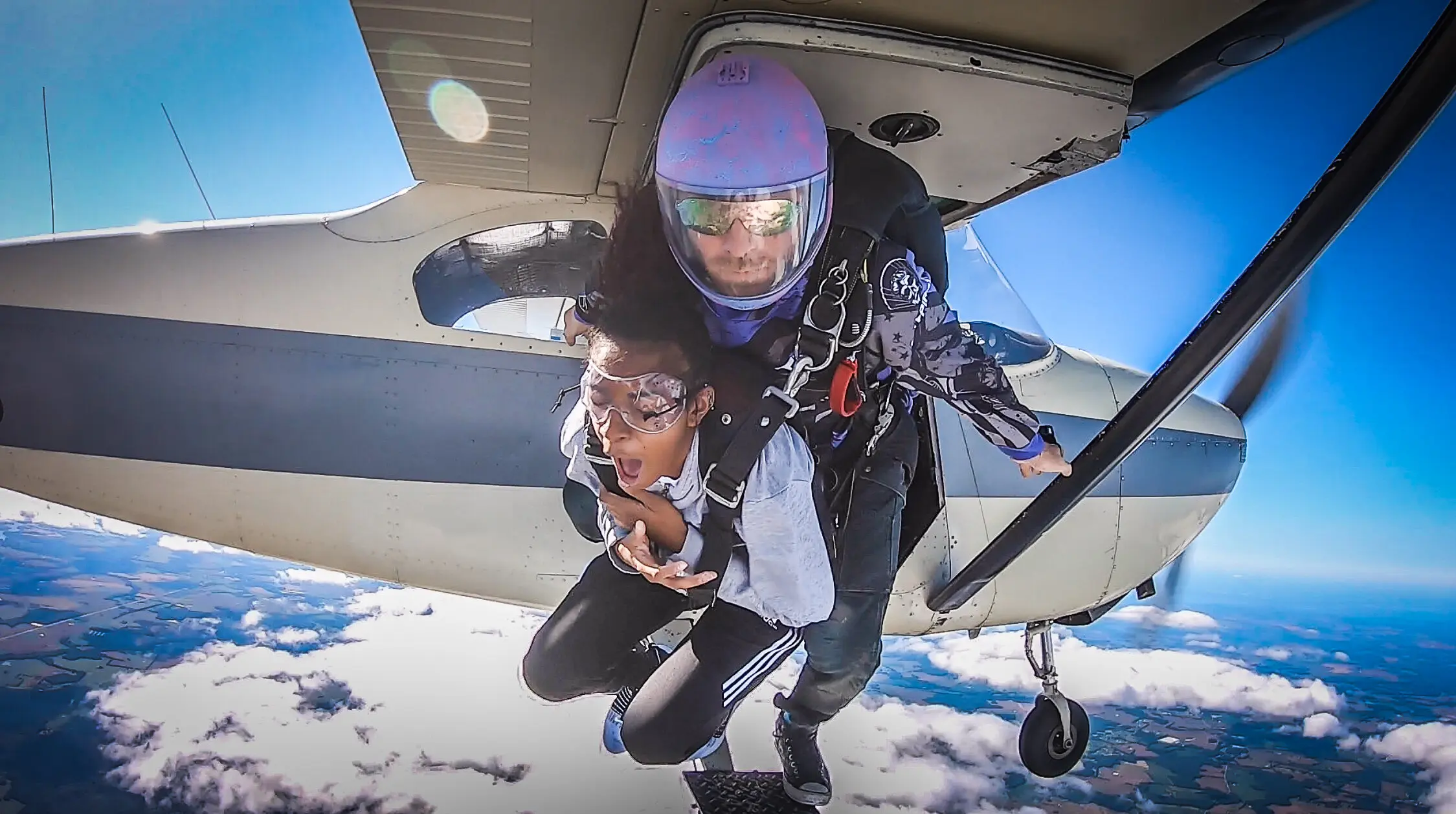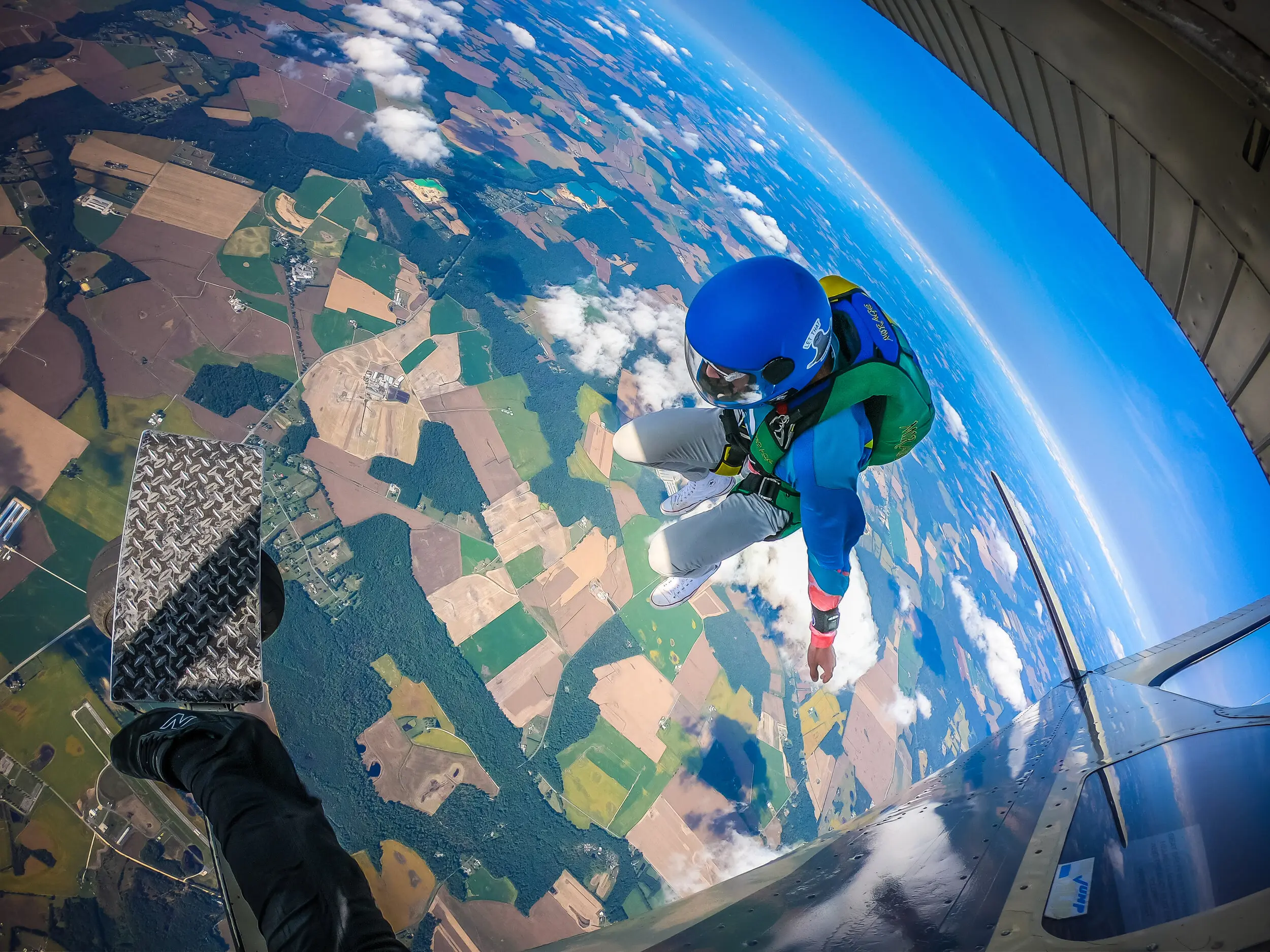 TANDEM SKYDIVING: WHAT YOU NEED TO KNOW
You must be 18 years of age or older and must bring a valid GOVERNMENT ISSUED PHOTO ID in order to jump. You understand I am not allowed to jump without an ID.
You will need a minimum of 2 hours to complete your tandem but due to possible weather conditions you should plan at least half a day to complete your tandem jump.
Check Weather Conditions:  Skydiving is a weather-dependent activity. Please check the FORECAST and call if you have any questions
Wear comfortable, athletic-type clothing suitable for the weather. Lace-up shoes are required: no boots, heels, flip flops, or open-toe shoes
Absolutely NO drugs or alcohol in your system
Due to safety issues and skydiving regulations, you cannot take any electronic devices with you on the aircraft or skydive
Maximum Weight Limit: All tandem students must be under 220 lbs

There are some physical and medical limitations that may require a medical release and/or Instructor approval to jump.  Call our office for details: (201) 477-0525